Empower your users with better inventory analysis in a MOBILE environment
Companies deal with thousands of materials or stocks on daily basis. The management of such inventory is critical as it directly affects the cash flow. The Stock Overview App helps to better manage materials inventory by providing full transparency of the material stock in all plants or storage locations in a plant anywhere at any point of time. Material stock that is updated in SAP will reflect in the application immediately, resulting in a real time updates on your device. This timeliness and integrity of materials data can have great impact on operational reporting and execution of key business processes.
The Stock Overview app provides basic material details, a column chart of the material quantity in each plant or storage location, and a pie chart with the percentage distribution of the material stock in each plant or in storage location. The graphical representation of the data enhances readability, avoiding miscalculations and leading to accurate reporting for better strategic planning and financial output across the enterprise.
Features and Benefits
Easy to use for any type of casual user to search for stock
As material stock are updated in SAP, real-time updates are provided on your mobile device.
Show the material details such as material storage location and material quantity
Search by material number or plant or even by both material number and plant
Graphical representation of material data for easy visualization
Built in material comparisons charts for better inventory analysis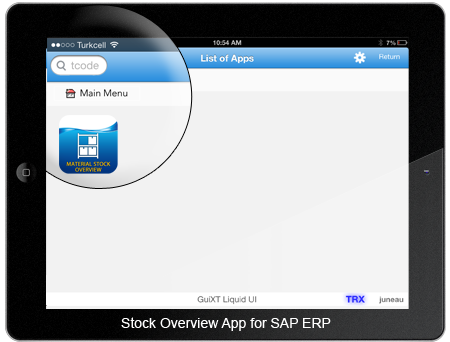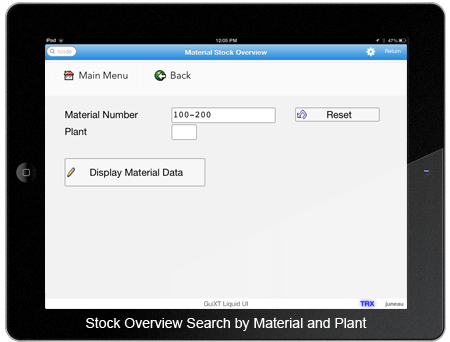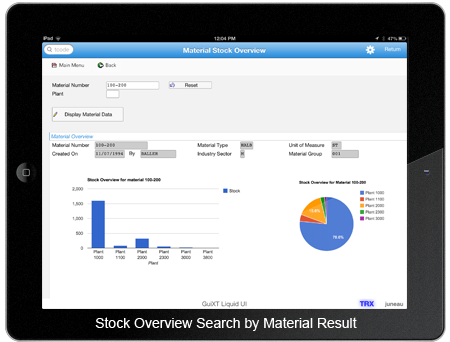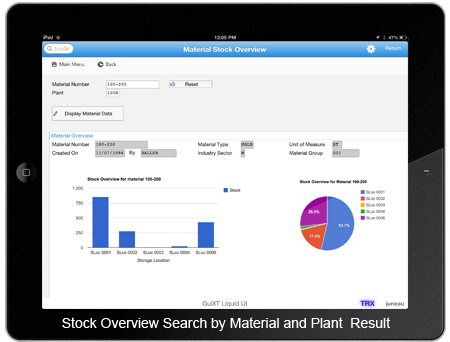 Highlights
TCODES: MMBE, MM03
Deploys to your mobile device in as little as 1 day∗.
No changes to your SAP system.

∗ If using standard process
Package Includes
WebScript and image files for customized UI on your existing SAP transaction
Documentation - User Guide, Deployment Guide and Technical Documentation for Developers
---