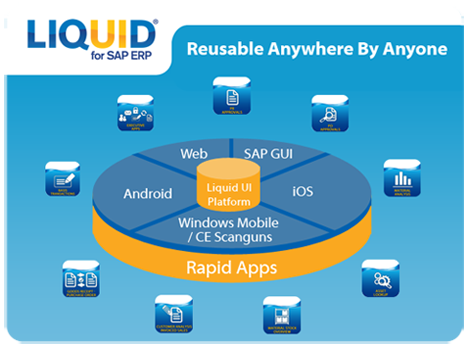 The Liquid UI Rapid Applications take the most useful mobile apps for users on the go, and deliver it on a powerful platform that connects directly to SAP ERP.
The Liquid UI Rapid Apps are highly customized pre-built apps which are easy to deploy in most cases within three days. These Apps gives users a consolidated approach and data insights in real-time to drive business. All the development logics are pre-defined and pre-builds to the restricted requirements of specific jobs, while leaving essential SAP coding untouched. Rapid Apps are designed to accelerate the simplification and usability of SAP transactions.
Built on GuiXT technology, the Liquid UI Platform enables companies to extend SAP ERP native connection to iOS, Android, Windows Mobile, HTML5 browsers or SAP GUI without additional servers, or browser-based clients.
Benefits
Anytime, Anywhere Native Connectivity
Highly optimized Apps allows agile, speedy and timely access to SAP business processes while increasing decision speed and user satisfaction.
Optimized UI For Smaller Displays
Unlike traditional applications, Liquid UI state-of-the-art technology provides direct access to SAP data from anywhere and at anytime.
Rapid Deployment
Deploy standard approval transactions immediately in one day without any development costs.
Increase Business Efficiencies, Productivity and Data Integrity
Liquid UI highly optimized Apps allows fast and flexible automation to aggregate screens, tabs and transactions and, decreasing data entry, eliminating user errors, and increasing overall business performance.
Workflow Integration
Liquid UI mobile workflow extends SAP workflow to email for quick approvals on the road, allowing users to complete critical business processes on the go
Customizable and Modernized Screens
Style sheets can be applied to the rendered SAP screens for an enriched view of SAP transactions which helps to increase visitor response
Features
Built on a rapid development framework if change is needed
No additional security layer required; just use your SAP logon
No Web services ABAP, Java, or mobile development experience required
One reusable code base across multiple touch- points - iOS, Android, Windows CE, HTML5- browsers or SAP GUI number, material number, description or serial number
Connects to SAP ERP systems via native protocols - without SMP (SAP Mobile Platform), or ITS (Internet Transaction Server)
Related Products Links
---
How to get started?
Send us a request for more information, or call +1.650.341.3310
---